Tuesday, 20 December 2016: BY CHAN LI LEEN – TheStar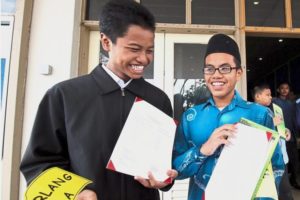 IPOH: Buoyed by his good results in the Form Three Assessment (PT3), Sekolah Izzuddin Shah student Nursalam Khairul Azman is hoping to achieve great things like Deputy Prime Minister Datuk Seri Dr Ahmad Zahid Hamidi.
"I'm very proud of the fact that we are from the same school," said the 15-year-old who scored 11A's in the exams.
"Perhaps one day, I can be someone important like him," he said.
According to Nursalam, his results were unexpected.
"I usually get B's and C's, not A's. And so I checked and double-checked the results list put up at the board in front of the school hall to make sure I saw correctly," said the youngster who aspires to be an ustaz.
Fellow schoolmate Hilman Hakim Ahmad Sabri had also not expected to score 11A's.
"I didn't put in extra hours but made sure to focus during classes, although there have been times when I actually slept due to heat or lethargy," said Hilman Hakim who hopes to become a doctor some day.
At SMK St Michael, Tang Chee Sheng attributed his near perfect results of 9A's and 1B to three hours of daily studying.
"I think cutting down on time spent on Facebook was also crucial in helping me achieve these results," he said.